APRA released its final Prudential Practice Guide 235 Managing Data Risk (CPG235) 2 September 2013. CPG235 provides guidance to Boards, senior management, risk management and technical specialists (both management and operational).
The PPG targets areas where "APRA continues to identify weaknesses as part of its ongoing supervisory activities."
What does that tell us?
APRA's view is that the industry still has a way to go before it handles data management satisfactorily
The responsibility for data management and data risk management, while ultimately with the Board of an Registrable Superannuation Entity (RSE), cuts across most parts of the operation
The onus is clearly on RSE licensees to ensure that appropriate data risk management is in place, and demonstrably so.
The best person at IQ Group to contact regarding CPG235 is Ron Mullins. Please continue reading below for further information.
What is involved?
The diagram below illustrates the structure that constitutes APRA's guide to managing data risk. The fundamental purpose behind PPG235 is explained here:
"In order to ensure that data risk management is not conducted in an ad‑hoc and fragmented manner, a regulated institution would typically adopt a systematic and formalised approach that ensures data risk is taken into consideration as part of its business-as-usual processes. This could be encapsulated in a formally approved data risk management framework outlining the institution's approach to managing data risk".
Source: APRA Draft PPG235: Managing Data Risk (December 2012)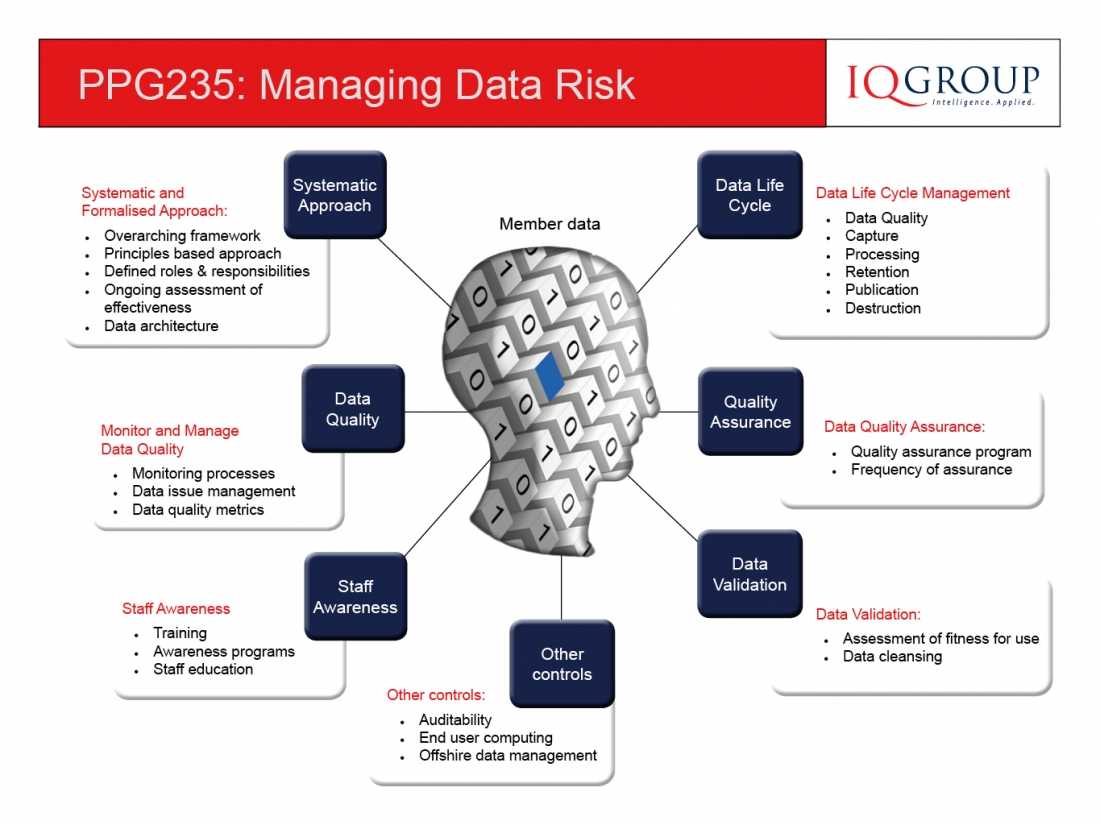 How your organisation can benefit from IQ Group
IQ Group have strong understanding of PPG235 requirements and principles. We can assist with the following consultation and specialist services:
Strategy / Business Case
Implementation
Adopting a systematic and formalised approach to managing data
Staff awareness
Data life-cycle management
Data validation
Monitoring and managing data quality issues
Data quality assurance